we have the experience and credentials to run an i.t. department
I have earned the A+, Network+, Security+, Project+, Oracle JAVA, Microsoft Windows Server and Desktop certifications.
I am a Microsoft Certified Professional and Microsoft Registered Refurbisher.
We are a member of the Lenovo Partner Program.
While we have the knowledge to Tune Up or Diagnose a PC manually, we have the professional tools and software to perform automated, full PC diagnostics, Clean and Tune up your PC, and training to secure your data according to NIST standards.
---
Need Help NOW?
Remote Online Assistance
(When Available)
CLICK HERE (exe, 9MB) to download a small piece of software to run on your Windows PC, then give us the 9-digit code via email to Support@RabidNerd.com or through Messenger.
We will bill you for your visit according to the rates shown at left.
"In Store" prices apply to online, remote help!
We Use PC-Doctor to diagnose your PC!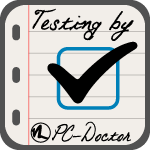 SEE OUR MONITORING, ANTI-VIRUS and MALWARE PROTECTION PLANS on our HOME PAGE!